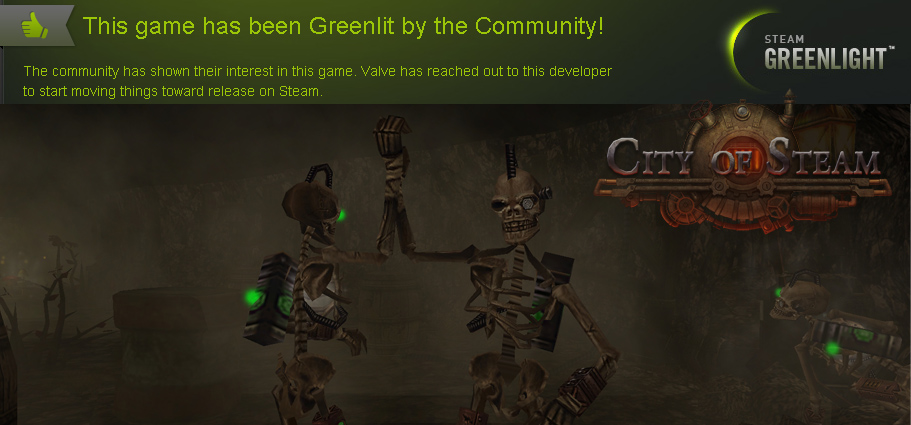 Yes, that's two skeletons high-fiving! We're the one on the left, because he has a green light so, he's green lit, get it?… right, yeah.
CITY OF STEAM IS GREENLIT!!! And with that we mean we have passed the Greenlight process and are officially in talks with Valve to get City of Steam on Steam at a later time, but that doesn't roll of the tongue as well as "CITY OF STEAM IS GREENLIT!" so we're going with that.
After launching our Greenlight campaign on December 12th last year, we've been actively campaigning to get votes in. We got seriously close in the previous selection phase, but now we've done it! Before we give you the hard stats though, we'd first like to thank you all for voting "Yes" on City of Steam and spreading the word, all 48,757 of you! Without you guys we wouldn't have been able to get on Steam. Like, at all (seriously!).
So, stats!
114,587 people have visited the City of Steam Greenlight page over the last 127 days.
87,648 of those have actually voted, 56% of those, or 48,757 have voted "Yes". 43%, or 37,986 (terrible ;) ) humanoid beings, voted "No" and 905 (2%) decided"next time" would be a better moment to choose. Though, through clever and witty PR, we were able to turn a few naysayers around…


This put us in the 8th or 9th place (out of the 1195 games campaigning up to that point), we're not exactly sure as we were hovering between the two just when we got approved. As 17 other games were also greenlit, we had a nice margin of error going into this round and we're super happy that that after about 4 months, we are now finally guaranteed a spot on the Valve's huge digital distribution service. Some of the new features we promised (like Jetpacks and some of the new pets) are already going to be in for the next Beta, which we hope to announce dates for within the next few weeks. Work on a Steam (client-based) version of the game will also start soon.
We'll be sharing with you what exactly is going to happen on that front, but right now we're busy focusing on a few other things that you might find interesting… a little something like a test-able build, perhaps?
Again, thank you all very much! Without you none of this would've been possible.
Now, on to making those promised additions happen…
(Come over and celebrate on the Forum!)